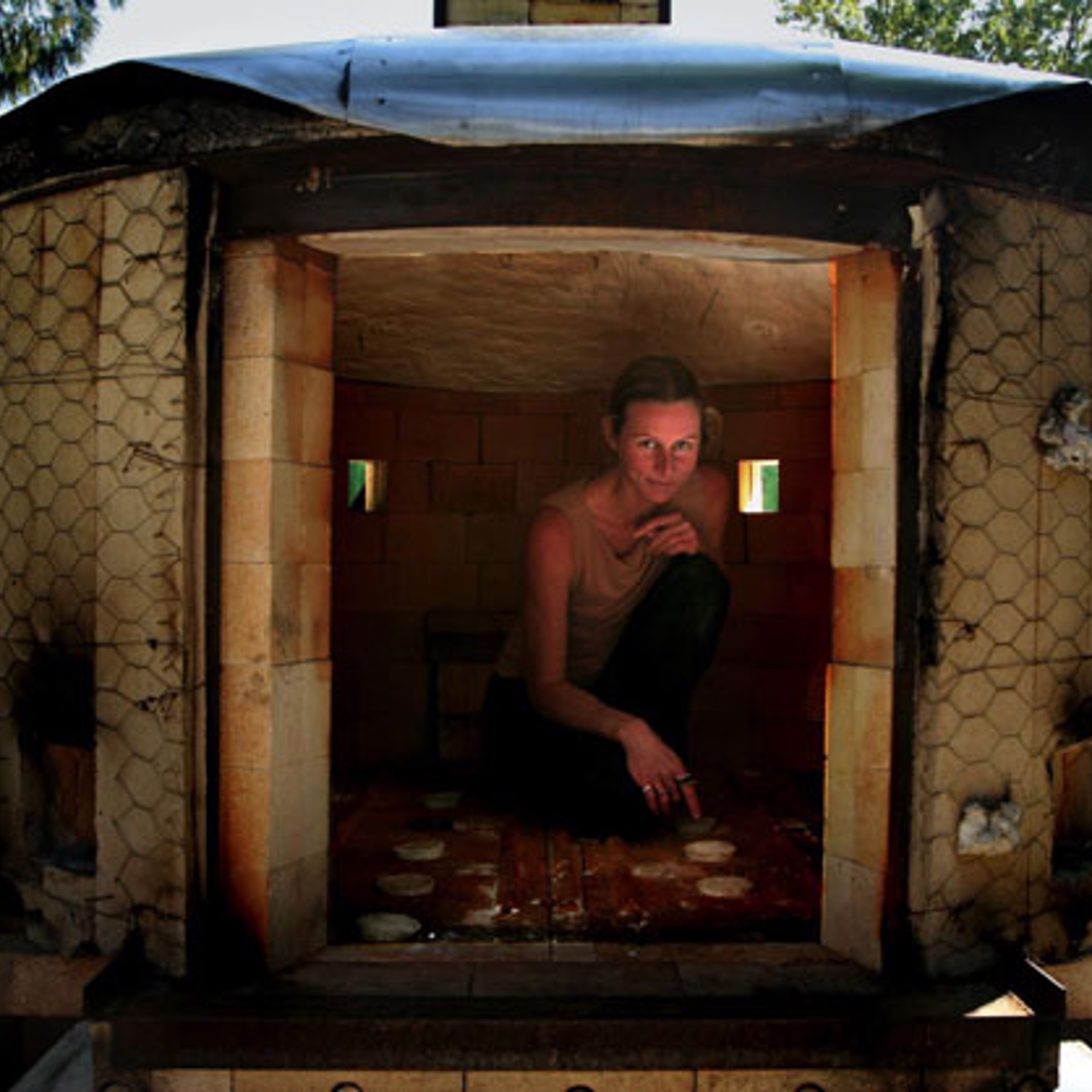 With strong roots in experiential education, Careen Stoll has traveled extensively around the globe and within her experience of self. She attended Carleton College and then Utah State for her BFA and MFA degrees as well as learning from studio potters Linda Christianson and Silvie Granatelli. While in MN, she developed her ethics around studio practice and ecological impact in conversation with Linda, CSA farmers, and friends at her carpentry job. These ethics translated into the creation of the Tin Man kiln upon establishment of a studio in Portland, OR. This innovative round-chambered kiln used wood and WVO as fuels in a nearly carbon-neutral footprint. She now has a studio in the country, and her own land nearby that is being developed from a permaculture perspective. The Tin Man will be re-built, as well as structures that aim for a net-zero energy consumption.
I design my pots to be comfortable and minimal. Think of beach stones and soft bodies: a full curve, fat lip, muted color, asymmetry and dimples. I choose porcelain for its working qualities and skin-silky touch. In keeping with environmental ethics, I built an innovative kiln that fired with wood and waste vegetable oil in a carbon-neutral footprint. The Tin Man kiln gave a rosy warm ash and reduction-cooled surface decoration. After 14 firings, I was asked to dismantle that kiln and move, but I will re-build it on our new land. I continue to throw and alter, loosely on molds, staying focused on the ergonomics of function while marketing to porcelain's history of association with a sumptuous meal.
Most broadly, I am dedicated to growing and sharing useful natural beauty: eatable forests, hand-made homes, the tools that make them, the pots and the food upon them. I find myself practicing gratitude to interact with the materials at their origin. I love the interplay of raw and refined life, formal exploration within the confines of utility, and the stories that are shared along the way. Today I think of my role in culture as perhaps that of a social entrepreneur; I am speaking through the object about the shared human experiences of everyday ritual, and I try to work with clients based on their values of social justice. When food is prepared, presented, and shared mindfully, I find nourishment far beyond simply eating. My artistic goal is to facilitate cultural understanding of the connection between locally based economies and health through the lens of experiential education hosted at my land.
Read More